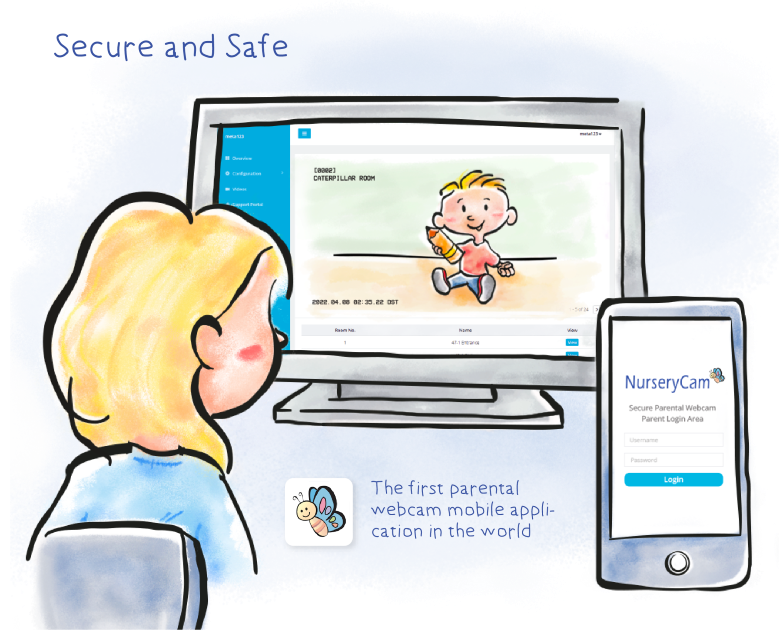 Parental Webcam
The parental Webcam gives parents the opportunity to 'drop in' via the internet at any time. It helps to reassure parents by letting them see for themselves how happy their child is at day nursery - and the great job your staff do every day. It gives parents the opportunity to be more involved in their children's daily activities. It is not surprising that, given the choice, most parents would choose a day nursery that has a Parental Webcam installed.
Know more about parental webcam >
Mobile app for parents
Benefit to Nursery Staff
Authority to set the time allowance viewing per day for parents.
Provide parent with an emotional connection with their children without knowing every detail in the nursery setting.
Enjoy longer period of recording to ensure all unexpected incidents can be tracked.
CCTV
CCTV gives maximum protection and security for staff and children in your care, assuring parents that their children are in a safe place. It also avoid mis-understandings and false accusations by providing vital evidence that protect your day nursery and staff from any unfair accusations.
Find Out More
Nursery Website
You can show off your day nursery on the web by having an individual bespoke website that matches your nursery's philosophy and image; and deliver information for new parents only via one easy-to-update website. Our inclusive e-marketing campaign helps to promote your nursery effectively on-line.
Find Out More